Crowd Pleasing Chap Chae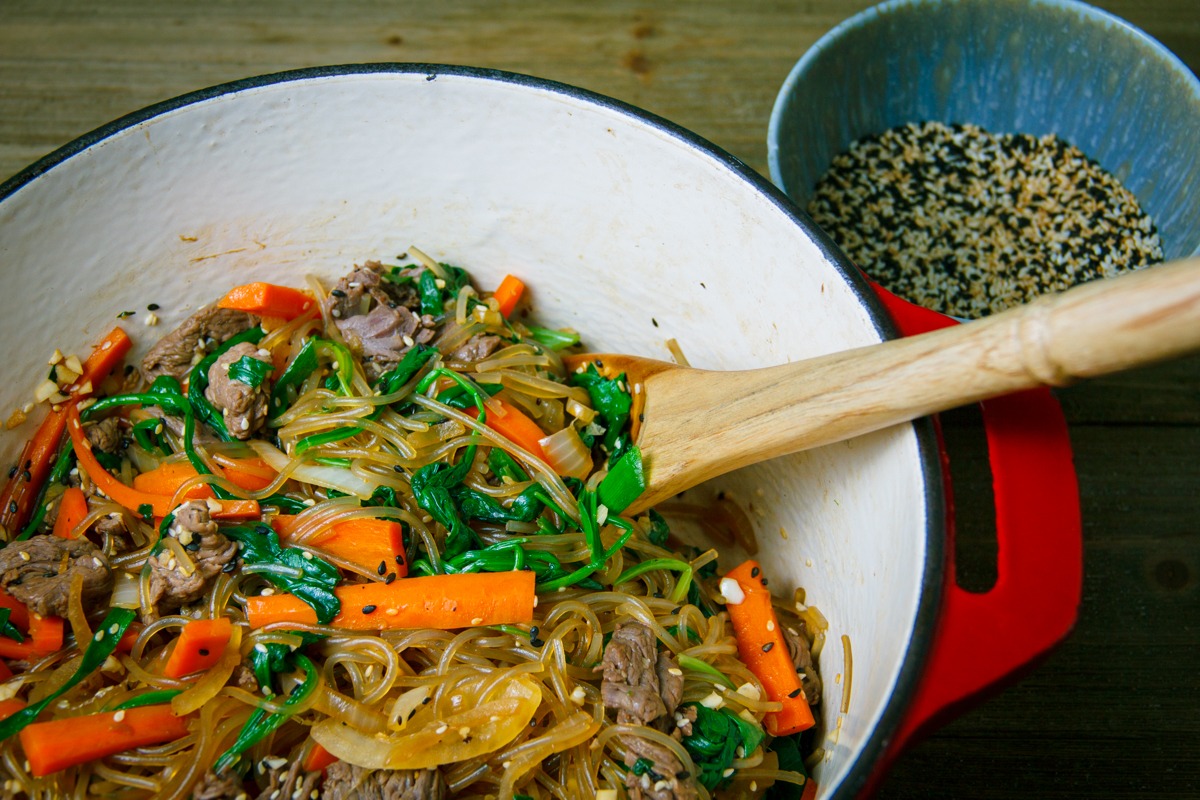 Have you ever been tasked with contributing to a potluck or potluck style dinner party? It can be somewhat of a stressful request, particularly when the person organizing the affair is of the laissez faire variety and gives you the terrifying blessing of, "whatever you want to bring will be great!"

Perhaps this is a conundrum that the majority of you will not relate to. Hopefully most of you are confident enough to bring a dish of your grandmother's recipe for rutabaga surprise or are content with slinging down a shrimp cocktail platter from the wholesale place on potluck tables galore. In that case, I applaud you. However, if you're prone to over analyzing acquaintances' dietary preferences ("Do you think such and such doesn't order pasta because it's boring or because they're gluten-intolerant?" Or "Is making 37,403,720,271 fresh spring rolls with six different homemade inclusions and three types of dipping sauce maybe a little too ambitious?") like I tend to be, then you understand.

Fortunately, I can personally vouch that I have relied on this particular potluck friendly dish more times than I can count. It is comforting, but interesting enough to compete with the omnipresent mac and cheese and generally a real hit with smaller humans. Interestingly, I wasn't cognizant of it being a main dish until I left Hawaii, where it seemed to generally be treated like a side dish and often did not include protein. This version is different in that the extra step of marinating the flank (or flap or skirt steak) in a semi-bulgogi bath gives the finished dish a little extra oomph.
Of equal importance, our recipe may differ from other Chap Chae (or Japchae as it's also spelled) recipes in that it doesn't include delicious shiitake mushrooms. Someone around here can't get down with funghi (I know!) but please feel free to include them in your version. If you're using fresh ones, slice them thin-ish and sauté with the rest of the veg in step two. Also, if you don't happen to have an Asian or Korean grocery store easily accessible, you can easily find Sweet Potato noodles to order online.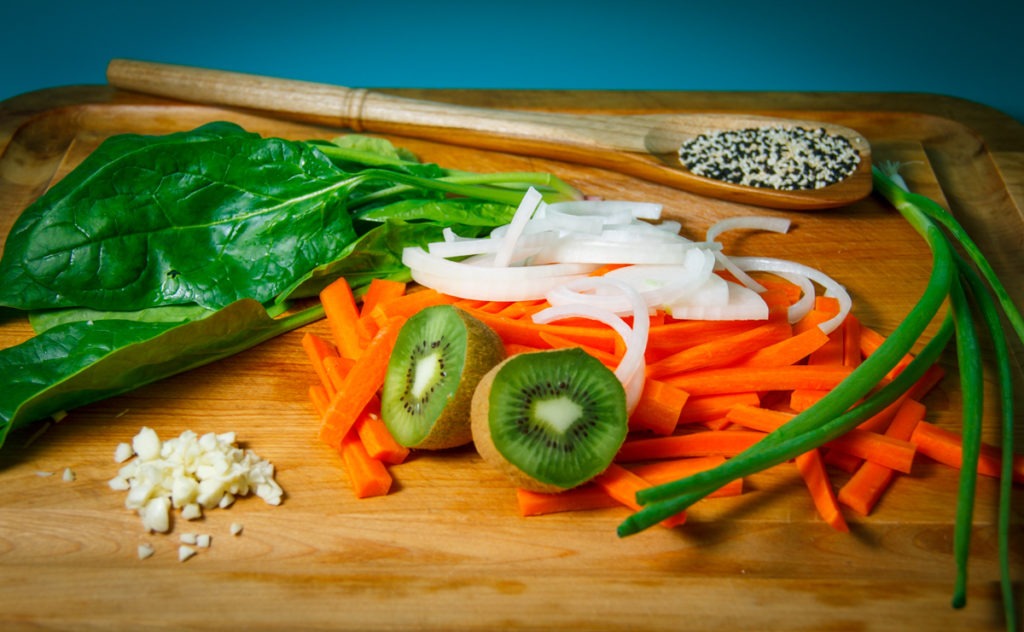 Now go forth and stress less about your next potluck commitment. I would also recommend just making this for a cozy night in, or to convince little ones into eating a good serving of vegetables. This recipe makes oodles of noodles which thankfully keep well for several days or nights of meals.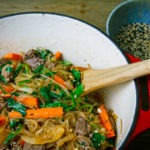 Print Recipe
Crowd Pleasing Chap Chae
A satisfying traditional Korean beef and noodle dish with plenty of vegetables and a few minor alterations that keep things fresh and interesting.
Ingredients
1

lbs

Beef Flap Meat

Sliced thin against the grain
Marinade
4

cloves

Garlic

Smashed

1

Kiwi

Peeled and smooshed

1/2

Tbps

Dark Brown Sugar

1

tsp

Black Pepper

8

oz

Apple Juice

1/2

tsp

Sesame Oil

1/2

Cup

Shoyu
Vegetable Mix
1/2

lbs

Sweet Potato Noodles

3

Carrots

Julienned and peeled

6

Cloves

Garlic

Chopped

1

Sweet Onion

1

Bunch

Spinach

4

Green Onions

2 inch sections
Sauce
1/2

Cup

Shoyu

3

tsp

Light Brown Sugar

1

tsp

White Sugar

1

Tbsp

Chopped Garlic

1/4

tsp

Sesame Oil

1/2

tsp

Black Pepper

1/2

tsp

Rice Vinegar
Topping
1

Tbsp

Roasted Sesame Seeds
Instructions
Marinate Meat
Prick steak all over with a fork and then slice against the grain into thin strips. Place inside a ziplock (or bowl if you're of the anti-ziplock persuasion).

Combine all marinade ingredients in the bag. Jostle to distribute and remove all air from the bag. If using kiwi, do not marinate for longer than two hours or you may risk your meat breaking down into a strange meat-mush situation. Marinate at your own risk!

Let marinate for two hours (or overnight if you're omitting the kiwi).
Vegetable Prep
Chop carrots. We like to julienne (ish) ours which can be time consuming, but helps to maintain a good crunch. Chop onions into half rings. Mince garlic. Cut Green onions into 1 1/2″ to 2″ long sections.

Wash spinach and pull off brittle ends. Alternatively, you can save time by using pre-washed baby spinach, we just prefer the mature variety because it seems to maintain its integrity through the leftovers stage.
Cooking
Put water onto boil. Salt moderately. Drop noodles into boiling water. Cook for 6 minutes.

Place whole leaves of spinach into boiling water with noodles. Once wilted and bright green (about 40 seconds) drain and toss with 1-2 tsp of sesame oil to prevent sticking.

Heat small amount of peanut oil in non-stick pan. Fry beef on medium-high heat, being careful to not add too much of its marinade to the pan. Otherwise you'll end up boiling your beef instead of searing it which results in an unappealing gray situation that may lead you to not be excited about bringing it with you to any festivities.

Once beef is mostly cooked through, transfer into noodle pot to hang out.

On medium heat, add another small amount of peanut oil to pan. Add half of the vegetable mix garlic and all of the carrots. Add 1/4 of your sauce.

Add sweet onion slices and saute for another 2-3 minutes. Test for the doneness of your carrots. We prefer them to stay quite crunchy.


Add the rest of your garlic and all your green onions. Stir to ensure garlic and green onions are heated.

Transfer the entire contents of your vegetable pan to the pot with noodles and beef.

Add remaining sauce, stir to combine.

At this point we like to turn the heat on low under the pot to let everything steam together for a few minutes since the noodles and beef will have lost some of their warmth, but it's not an entirely necessary step.

Top with sesame seeds and serve.
Yum
---