Maridomo – All Purpose Uncluttered Tomato Sauce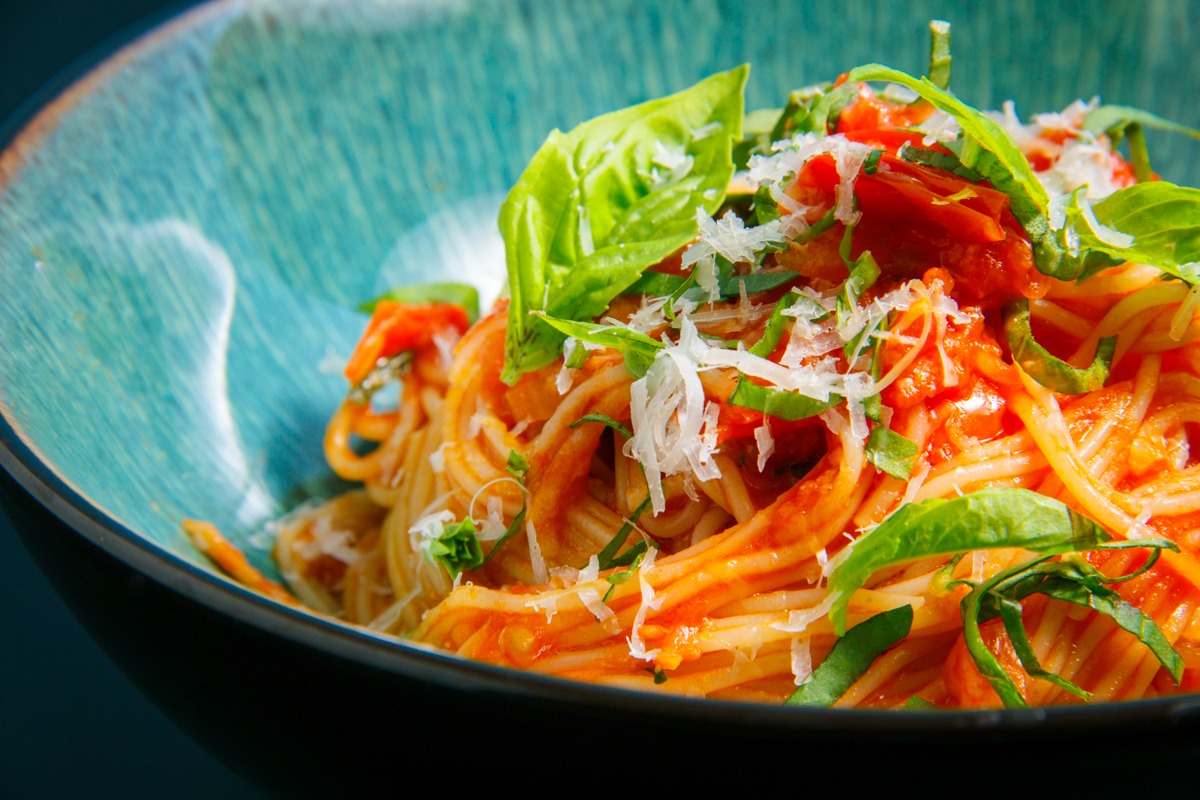 With the exception of lasagna, there wasn't a lot of Italian food in my household growing up. My grandparents didn't particularly appreciate the acidity of tomatoes, and my brother was generally opposed to foods served at a temperature above tepid, so I wasn't treated to anyone's Sunday gravy with a medley of braised meats, or Christmas seafood feasts. Despite being a very accomplished cook and spectacular baker, I'm not sure my grandmother ever made a dish with tomato sauce that didn't start its life in a jar.
I realize this sounds a bit bratty, and I don't mean it to. Rest assured, if this anecdotal retelling was presented to my grandmother or other family members they'd do little more than raise an eyebrow and sigh. I merely bring this up as support for why I'm very excited about Italian dishes that lucky folks with Nona's are likely to be unfazed by. Not surprisingly, the first time I suggested making a simple pasta situation with this type of sauce, I can't say Ben seemed particularly excited at the prospect of… tomato sauce. Thankfully, this was also because of his frequent exposure to jarred varieties and their… underwhelming flavor profiles. While he's still more interested in sauces with a bit more going on in them, this has fixed his aversion to tomato-basil sauce.
Growing up, my family didn't frequent Italian restaurants, so it was somewhat serendipitous that one opened underneath our favorite Pie place. Yes, you read that correctly. Imagine a very family oriented home style joint where the servers wear odd ruffled gingham pinafores situated directly above an unassuming, dimly lit, Italian red sauce kind of place with endless garlic knots. Weird, but because of its location, it was a dining option when we happened to be in the mood for strawberry Haupia pie but not local-American fare.
At any rate, this semi underground Italian place had an extensive menu (if you could manage to not entirely fill up on the alarmingly delicious garlic knots) including a multitude of sauce options. Given my predilection for garlic, and basil, and fresh tasting things, I ordered the angel hair with pomodoro sauce the first time we ate there.
The server was convinced I'd prefer something else. Alfredo? Marinara and meatballs? Pesto cream?
No. Pomodoro, please.
When it arrived, I couldn't believe the garlic knot slinging guy could have ever discouraged me. This was what tomato sauce could taste like? It was like… hot basil olive oil infused flavored salsa and I was absolutely enamored. Despite having the bizarre catchphrase "try something new everyday!" as a child, I did not take my own advice and failed to order anything else in all the years we went there.
Thanks for staying with me for what was an unbearably long preamble to an extremely basic recipe. This particular sauce pays allegiance to Bravo restaurant in Pearl City's Pomodoro, but paired with some sturdy San Marzano tomatoes to give it just enough heft for purposes other than devouring with angel hair. As always, you can decrease the amount of garlic and use whatever amount of Chili flakes floats your particular boat.
Finally, this is slightly more involved than heating up a jar of sauce and may seem fussy using both fresh and canned tomatoes, but the cooking time is pretty speedy and the end result is, in my opinion, pretty perfect.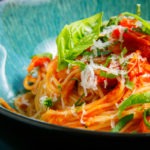 Print Recipe
Maridomo – All Purpose Uncluttered Tomato Sauce
The perfect marrying of two Italian tomato sauces, Pomodoro and Mariana, uses whole can San Marzano with the genius addition of all season cherry tomatoes to liven things up.
Ingredients
1

whole

Shallot

Chopped fine or grated

1

head

Garlic

Chopped fine or grated

1

pint

Cherry Tomatoes

halved

28

oz

San Marzano Tomatoes

1 Can Pulverized or Smooshed

1

tsp

Kosher Salt

1/2

tsp

Chili Flakes

Optional

1

pinch

Sugar

Optional

1

tbsp

olive oil

extra virign
Instructions
Chop or grate shallots and garlic. Set Aside.

Halve cherry tomatoes and taste one. If they're a bit lacking in the flavor department, lightly salt them and maybe add a tiny pinch of sugar and let them hang out while you're prepping the canned tomatoes.


Depending on your sauce texture preferences, you can either dump the canned tomatoes into a bowl and squoosh them with your hands, or alternatively, blitz them with an immersion stick blender or food processor. We usually immersion blend them very briefly.


Heat olive oil in a heavy bottomed pan and add chili flakes (if using). Once flakes begin to dance, add shallots and 3/4 of cherry tomato halves. Saute over medium heat, stirring to ensure flakes and shallots do not brown, or worse, burn.

Once cherry tomatoes have softened, Add garlic and saute for only 30-45 seconds or until fragrant. Do not brown.

Add squooshed or blitzed canned tomatoes and stir, adding 1/2 the amount of salt. Cook over low-medium heat for 13-16 minutes or until canned tomatoes have darkened slightly and the sauce's volume has reduced by an inch or so. Taste for seasoning, add more salt or a tiny amount of sugar if desired. Add remaining cherry tomato halves and cook for an additional 5 minutes.
Notes
If you're looking to recreate the Angel Hair dish seen in the recipe image, it's almost too easy to make in addition to whipping up the sauce and is one of my favorite ways to enjoy this recipe.
Simply boil well-salted water for the angel hair and grate about 1/4 cup of Parmesan with a rasp-style grater to achieve the fluffy texture in the photo. I like to save a few cherry tomato halves and briefly saute them with some olive oil and garlic. Then, I'll add the angel hair straight from the boiling water into the pan with a ladle or two of sauce and toss it for a minute before turning off the heat and adding the basil and Parmesan.
Simplicity at it's finest.
Yum
---