Crisp and Crunchy Chicken Parmesan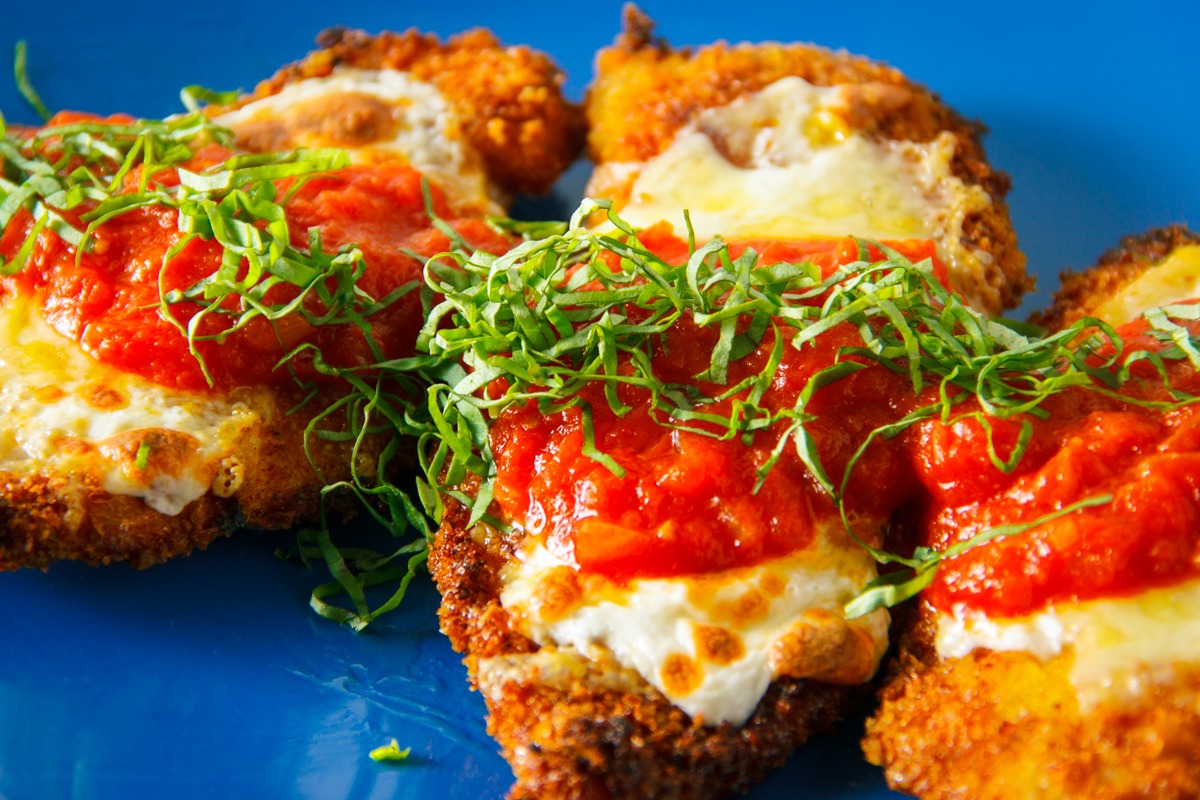 For folks that enjoy chicken, there's something pretty satisfying about anything resembling a chicken strip. I used to tease Ben about his adoration for a fast-casual restaurant back home in Orlando that specializes in them until I went for the first time. I stand corrected.

Because I'm certain I can't replicate them at home, I felt compelled to perfect the chicken strip's Italian-American cousin, Chicken Parmesan. My interpretation leans closer to a breaded chicken cutlet than a chicken strip but serves as a good stand-in for when a trip to Orlando is out of the question and as a way to celebrate the deliciousness of the illusive chicken tender.

This is one of my favorite dishes to make when I've armed myself with an excess of mari-doro sauce, and the leftovers leave you with fixings for sandwiches (with nothing more than a hearty pile of arugula and a teeny squeeze of lemon) which may be even more delicious than the cutlets on their own. We've decided to refer to these as "updated" because unlike more traditional recipes, the breaded and pan-fried cutlets do not get layered with cheese and sauce in something resembling a lasagna but instead just spend a couple of minutes getting toasty under the broiler to melt the cheese mixture and then get topped with warmed sauce and a shower of chiffonade'd basil.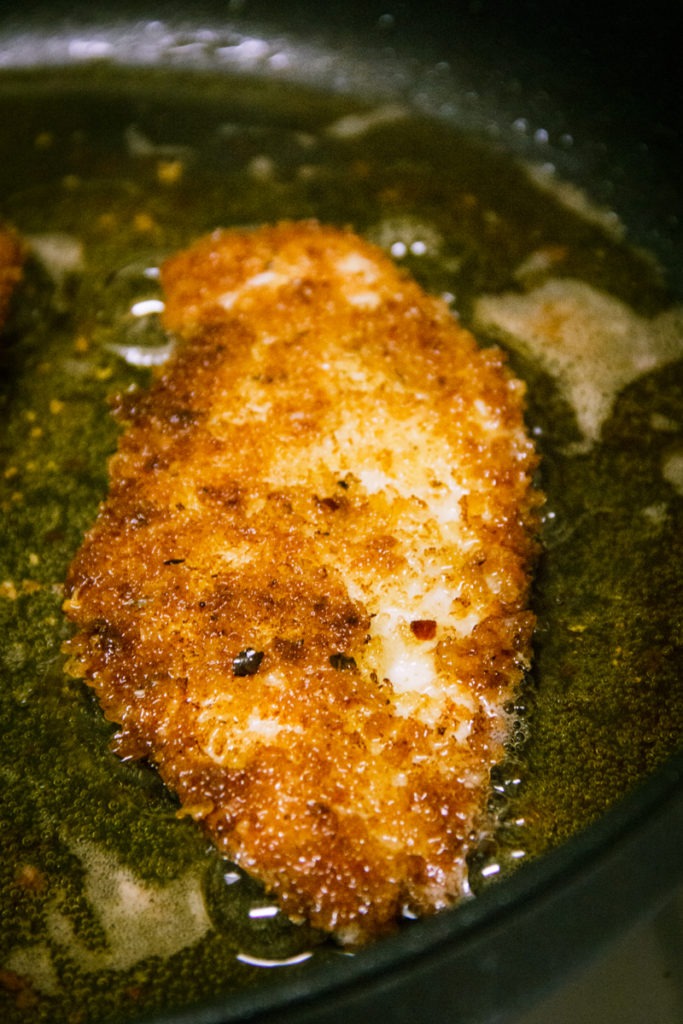 We particularly like the end result, crispy but not greasy, rich with parmesan flavor, but not something you might confuse with other layered Italian-American classics. In this version we've substituted Oaxacan string cheese for mozzarella because we always have it on hand, as well as adding a judicious amount of freshly grated parmesan in both the panko mixture and the shredded cheese topping.

We'd recommend serving them with either angel hair and a big green salad with various Italian bits and bobs or just with salad and maybe a slice of garlic bread?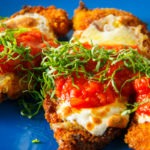 Print Recipe
Crisp and Crunchy Chicken Parmesan
This Chicken Parmesean leaves behind the soggy layered mess of yore and instead takes a cue from crispy chicken tenders loaded with fresh cheese and crunchy panko breading.
Ingredients
1

lbs

Chicken Tenders

Sliced horizontal

3

cloves

Garlic

3/4

Cup

Fontina Cheese

3/4

Cup

Mozarella or Oaxcan Cheese

1

Cup

Panko

1/3

Cup

Parmesan cheese

2

eggs

1/2

Cup

Milk

1

tsp

Kosher Salt

divided

1/4

tsp

Chili Flakes

1/4

tsp

Dried Oregano

1/2

tsp

Black Pepper

1

Tbsp

Flour

1

Lemon Zest

1

pinch

white sugar

1

Cup

Prepared Italian Tomato Sauce

We recommend our Maridomo Sauce
Instructions
Bring the chicken tenders out of the fridge and assess their thin-ness. You want them to be all roughly the same size and height with maximum surface area for breading/cheese and sauce application. Depending on your butcher or market, you may be able to give them a few whacks with a meat mallet or alternatively, slice them in half as you would a layer cake.

Arrange tenders on a plate. Combine half your amount of salt with the pinch of sugar and apply to both sides of tenders. You are essentially quickly dry brining these puppies to encourage them to A) taste delicious from the inside out and B) remain juicy after a shallow fry and trip under the very toasty broiler. Allow to brine for a minimum of 45 minutes to as long as an hour or so. Since we keep our home on the chilly side, I leave them out and covered on the counter so I don't have to worry about bringing them back up to room temperature again. If that makes you squeamish, go ahead and pop them in the fridge.

After brine-ing, combine 3 tablespoons of your parmesan with the panko, remaining salt, lemon zest, chili flakes, oregano, black pepper and flour in a shallow dish which will easily accommodate a couple of tenders at a time. Whisk eggs and milk and grated garlic together in a separate shallow dish.

Heat olive oil in a frying pan over medium low heat. You don't want this to get too hot which will result in scary hot oil potentially spitting at you, and can burn the tenders opposed to frying them to a lovely golden brown. Pat 2-3 tenders dry and dip them first into the egg/milk mixture, then into the panko mixture, flipping to ensure both sides are equally covered in crumb mixture. Next, carefully transfer to hot pan. I'd stick with frying 2-3 tenders at a time so as not to overcrowd the pan.

Fry first batch of tenders for 3-4 minutes and flip. Once second side is sufficiently golden brown, remove from pan to rest. We keep ours on a little metal rack to keep 'em crispy. Repeat dredging and frying process with remaining tenders.

Preheat Broiler. Arrange tenders on broiler-safe pan and top with desired amount of Oaxacan (or whatever melty cheese you'd like), fontina, and remaining parmesan. Broil for 4 minutes or until cheese is melted and slightly browned.

Serve topped with warmed tomato sauce (we recommend something simple like our mari-domo) and copious amounts of shredded fresh basil. Enjoy with angel hair pasta and salad, or just salad if you're less indulgent than we generally are.
Yum
---