Pasta Project: Another Case for the Small and Mighty Anchovy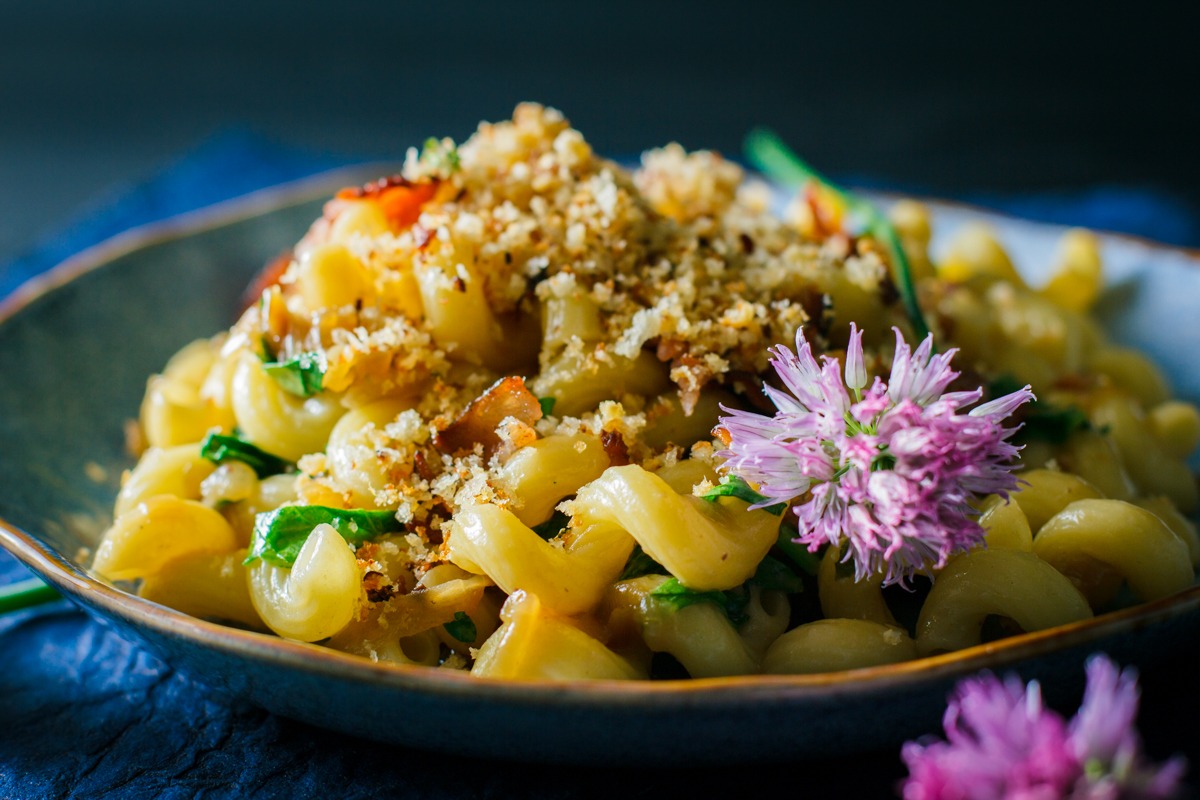 *Product links in this post pay us commissions if an item is purchased
Allow me to set the scene; I had just transferred to a very green, relatively historic, and fabulously liberal women's college in the San Francisco Bay area and was within minutes of starting my first cognitive psychology class. In trendy liberal arts fashion, there were no desks in the classroom but rather long tables which formed a horseshoe shape which supposedly encourages youngsters to engage better with the course material, instructor, and each other. As I was setting up my noncompliant and stiff fresh composition book and selection of glittery gel pens, someone sat next to me and plunked their absurdly large metal water bottle on the table and began removing what seemed like too many layers of clothing for early September in northern California. It was difficult not to begin reading the many stickers adorning the large water vessel, and in an attempt to start the semester off on the right social foot, I smiled, pointed with my pen to a swirly cursive quote penned by a certain famous British playwright about being little but fierce and brightly said, "Oh, like anchovies."
It is safe to say that my classmate and I did not engage again over the course of the semester.
Hopefully, this is not an anecdote which will lead you, dear reader to squander your social instincts for fear of being deemed the weird fish girl in class, but rather to embrace your inner weirdo and anchovy champion. This could be the place where I attempt to lovingly extoll the many virtues of using anchovies in your cooking and their ability to make your dishes an umami powerhouse, blah blah blah. But I am not going to do that because you've probably already heard or read that. Instead, if you're still adverse to them, and willing to try once more to see the light, I'm just going to tell you to make this next weekend.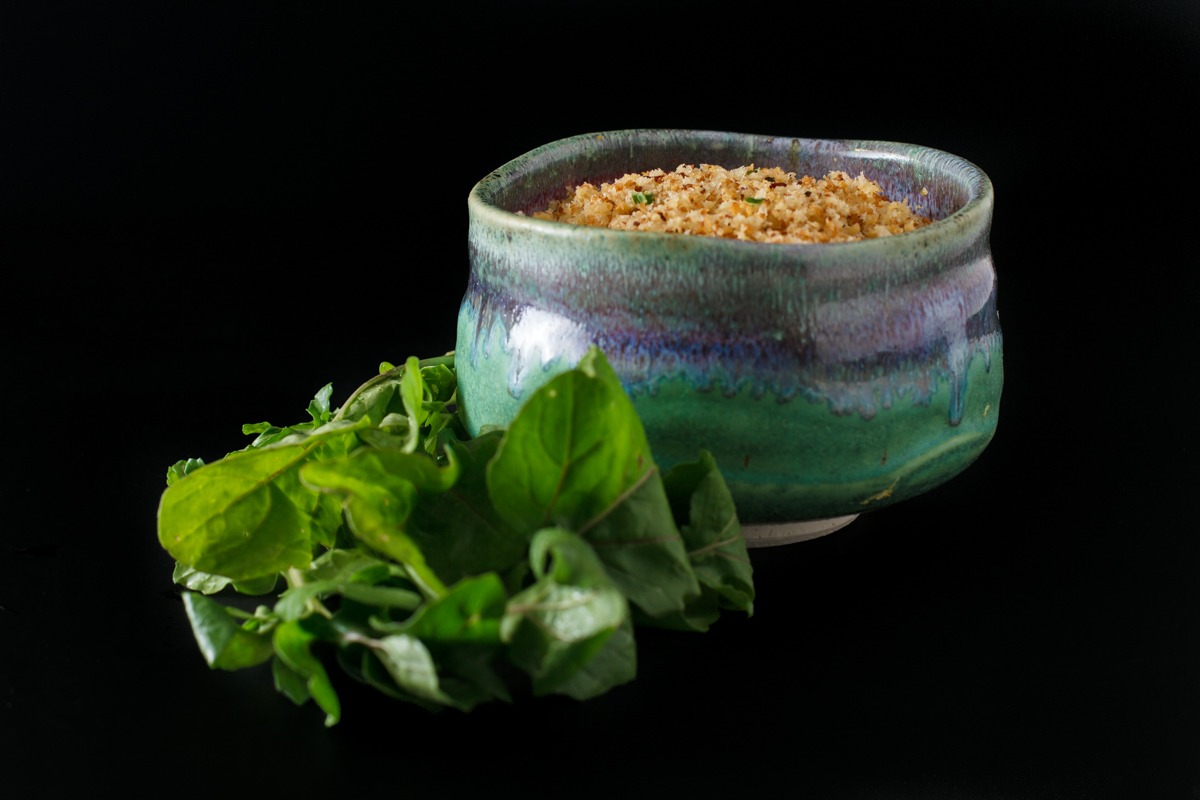 This is not a throw together weeknight pasta. This is an audacious, lascivious, I-Can't-Stop-Eating-This kind of pasta for nights that aren't too warm to have the stove on for a while and lends itself well to helping hands in the kitchen over an interesting bitter aperitif. Most importantly, this is potentially my favorite anchovy-adverse dish for those of us who have not pledged our allegiance to cult-chovy. Feel free to omit the bacon, forgo the arugula, swap out different crunchy breadcrumbs, just don't leave out the anchovies. Please.
Finally, it seems important to give a quick disclaimer about buying anchovies. Similarly to the difference in quality found in canned tomato products (My head almost fell off the first time I made puttanesca with San Marzano D.O.P. tomatoes in college) there is also a noticeable difference in anchovies. Ideally something salt-packed like these are your best bet. These however, are also really, really special. I realize it's a bit of a commitment, but they can hang out in the fridge in a swaddling of paper towels and plastic for quite some time. If the jumbo can of salt-packed ones do not float your boat, just make sure you're buying ones packed in pure olive oil and aren't the most bargain-friendly option at the shop. I have a theory that a lot of folks who've had negative experiences with the little guys results from less than prime specimens.
XO,
T&K

Ps. We are not liars and feel it necessary to state that in order to properly caramelize the onions, it will take conservatively 45 minutes, but probably closer to an hour and fifteen.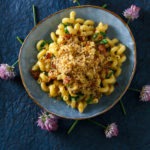 Print Recipe
Caramelized Onion, Bacon, Anchovy Pasta with Arugula, Garlicky Breadcrumbs & Assorted Herbs
A savory and interesting pasta dish with enough sweetness from perfectly caramelized onions and spicy bitter greens to convince even the anchovy adverse that incorporating anchovies into your cooking is a good idea.
Ingredients
4

Yellow or Sweet Onions

Medium or Large

3

Tbsp

Olive Oil

1

Tbsp

Butter

.5

lbs

Pasta

I particularly like tortologni

1

Cup

Arugula

1

tsp

Chili Flakes

1

tin

Anchovies

Or 8-10 salted ones Rinsed, patted dry, and chopped

4

Strips

Bacon

Cooked and Crumbled
Bread Crumbs
.75

Cup

Panko Breadcrumbs

Or homemade sourdough breadcrumbs

3

Cloves

Garlic

Lemon Zest

2

Tbsp

Parsley

2

Tbsp

Chives
Instructions
Caramelizing Onions
Slice onions into equally sliced half moons. Heat 2 Tbsp olive oil with butter.

Once oil shimmers, add onions, salt, and a pinch of brown sugar.


Caramelize over low-medium heat. Beware this will take 45 minutes at minimum. We don't lie here.


While onions are going, crisp bacon. Let cool, drain fat and crumble.

Anchovy Pasta
Once onions are a deep golden brown and sufficiently jammy, add an additional tbs of olive oil in the center of the pan. Turn up the heat to medium.

Add mashed anchovies and chili flakes.

Once anchovies have melted into the oil, combine with surrounding onions. Taste for salt and sweetness.

Heat a large pot of water and salt liberally like the sea. Cook pasta until quite al dente.

Toast panko or other breadcrumbs with microplaned garlic, pepper, lemon zest.

Yum
---