Backyard-Broiler Kalbi Ribs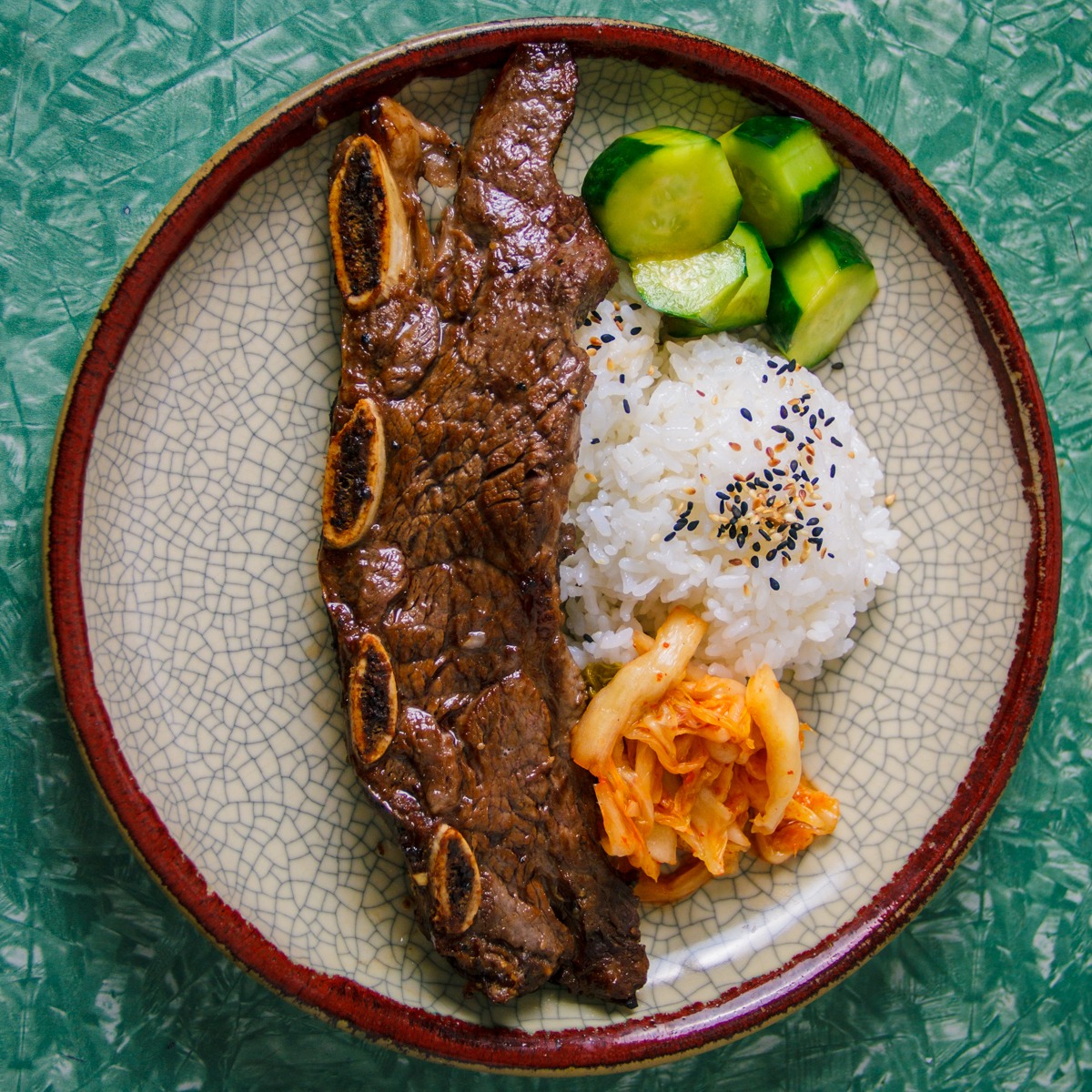 For when you aren't able to make it to a reputable plate lunch establishment
I was four when my family moved from the perpetually crisp and cool Napa Valley to the perpetually warm, sticky, and very different East Honolulu neighborhood of Hawaii Kai. Despite being too young to have much of an opinion on where manifest destiny had brought my family, I was not thrilled about the move. It was too hot. The kids at school didn't like me. I missed the giant Big-Leaf Maple tree in our front yard and its changing leaves. Things I did appreciate included the ocean, the creatures found in and around the ocean, and the food.
Among my favorite treats included a Korean barbeque plate lunch from the joint attached to our favorite Asian grocery store. In fact, I could easily be persuaded into a day full of grocery shopping with the promise of a combination plate from said joint. While it's unlikely I'd ever turn down a plate of Texas style brisket, or vinegar-imbued saucy pulled pork, home-style barbeque to me means charbroiled fatty beef ribs or chicken thighs that have spent a decent amount of time bathing in sugar and shoyu.
Unfortunately, there seems to be a paucity of legitimate local barbeque joints outside of the 808-area code which has led to my reimagining of classics. Making use of your broiler seems to consistently provide the same kind of satisfying results as a backyard hibachi or restaurant equivalent. I'd recommend enjoying these with plenty of fluffy short grain rice and an assortment of pickled things or simple vegetables. Kimchee should not be optional.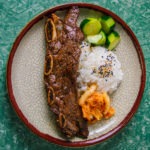 Print Recipe
Backyard-Broiler Kalbi Ribs
Short ribs cut cross-wise get a Hawaiian-Korean treatment with a sweet shoyu marinade and time spent in the broiler for those of us that do not own a grill.
Ingredients
3-4

Short Ribs

It's important to buy the long cut variety, English style will not work for this
Marinade
1

Small Sweet Onion

4-5

Smashed Garlic Cloves

.25

Cup

Light Brown Sugar

1

Tbs

Dark Brown Sugar

.75

Cup

Shoyu

.5

Cup

Apple Juice

1

Kiwi

Peeled and squished with your hands This doesn't have to be pretty

1

Drizzle

Toasted Sesame Oil
Serving Toppings
Toasted Sesame Seeds

Green Onions
Instructions
This serves 2 very hungry folks or 3-4 grazers.

Combine Marinade Ingredients in a large Ziploc. Add short ribs and slosh them around, making sure all of the air is out of the bag. Place on a flat surface in the fridge and let marinate for a minimum of 3 hours to a maximum of 8. Beyond that and they might start to break down too much from the enzymes in the kiwi.


Once marinated, remove the short ribs and pat dry with paper towels. Preheat broiler to high and either oil an appropriately sized broiling pan or use a piece of foil to reduce your cleanup time.

Here's where some of the guesswork comes in and you have to gauge the thickness of your short ribs and time accordingly. If on the thinner side, they should take about 7 minutes per side. Make sure to flip halfway through and let them rest for a few minutes before scattering with sesame seeds and green onions.

Make sure to gnaw on these, the meat around the bones is sometimes the most delicious.
Yum
---